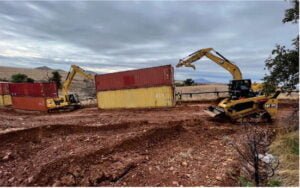 Just a few years ago, Arizona's Department of Emergency and Military Affairs (DEMA) was counted among the state's smaller agencies, known for preparing Arizonans for summer monsoons.
That changed in 2021 when then-Gov. Doug Ducey declared a state of emergency over immigration and put DEMA in charge of what was to become a half-billion dollars to secure the state's border with Mexico
Nearly two-thirds of the money was intended for construction of a barrier at strategic points along the border. The solution the administration settled on was unusual: empty shipping containers stacked one on top of the other and locked end to end.